Your Review and Rating Matters!
About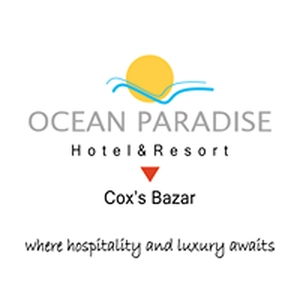 The finest and best hotel ever in Cox's Bazaar
General Information
Ocean Paradise Hotel & Resort is a 5 star standard resort hotel on a 2 acres of land at Hotel Motel Zone, Kalatoli Road, Cox's Bazar. The hotel is beside the world's longest sea beach consisting of 320 guest rooms with almost all facilities of an international standard hotel which includes business centre, shopping centre, health club, Spa, Physical Fitness room equipped with modern exercise accessories, swimming pools, large banquet halls, restaurant, lounge, gardens, tennis court, bar, children's play area, conferance center, in-room minibar, Internet, wifi, full featured helipad, car parking and many other facilities.
Dhaka Office
House: 3B, Road: 4, Banani DOHS 
Dhaka - 1206 
Phone: +88 02 9835469
Hotline: +88 01938 846766
Chittagong Office
House: 2, Road: 2, Lane: 3 Block: K 
Halishahar H/E, Chittagong, Bangladesh. 
Hotline: +88 01938 846769
Phone: +88 0312 51979
For Reservation and others: Please call +88-0341-52370-9. For Reservation Hotline, dial 0341-52379 & for direct reservation: +88 01938846761 - 65.
[Central Reservations: 9:00 AM - 8:00 PM]
 
Beach Resort · Hotel Resort · Bar & Grill